Fontainebleau and Barbizon tour
Fontainebleau Barbizon Tour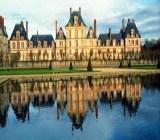 From: 89€
- COMPLIMENTARY PICK-UP & DROP OFF
- Entrance Fee to FONTAINEBLEAU CASTLE
- AUDIO-GUIDED tour
- Visit to BARBIZON
- Transport by Air-Conditioned MINIBUS
TOUR DESCRIPTION
After a complimentary Paris hotel pickup, let our friendly driver-guide take you to Fontainebleau Castle for the afternoon.
Travel onboard our deluxe air-conditioned minibus to the home of France's Kings, Queens, Emperors & Empresses since the Middle Ages. Visit Fontainebleau castle,the royal residence from the 12th century, hunting lodge of François I and Napoleon Bonaparte's abdication.
Today, Fontainebleau offers visitors its architectural treasures, its décors, its paintings and the thousands of fascinating and precious objects that it has preserved. Visit Napoléon's apartments on the first floor, where you can see a lock of his hair & more. See the decor of the François I Gallery, one of the most beautiful galleries in France.
View the Trinity Chapel, the King's bedroom & Throne Room - It's the only remaining Throne Room in France retaining its original furniture. Enjoy some free time to wander through the Chateau's gardens.
Discover the English Garden, formerly the Pine Garden, and visit the mirror-like Carp Pond.
Stroll through the Grand Park, with linear paths, star-shaped crossroads and a large canal built under Henri IV. After uncovering the mysteries of Fontainebleau, the village of Barbizon awaits.
Once the cradle of the pre-impressionist painters of the 19th century, now this picturesque village houses museums to Théodore Rousseau and Jean François Millet.
Drive through the main street of this quaint village, located on the skirts of one of the most beautiful forests in Europe and the plain of the Angelus, and enjoy a simpler time before returning to your Paris hotel.
---